Spring Break. It's an awesome concept, really. But I sorta forgot about it. It was a regular part of my life for 18 years or so but seeing as though it's been another 14 since I observed one, I totally forgot how awesome it is to be totally carefree and wild. Okay so "wild" may have a completely new connotation in my old age, but either way I am welcoming Spring Break back into my annual routine for the next 20 some odd years!!
For anyone local and interested, we had an insanely awesome trip, stayed at incredible places where babies, preschoolers and giant newfoundlands were all welcome and treated like family, and we experienced some of the most gorgeous Rocky Mountain geography this Rocky Mountain girl has ever seen.
We headed south on 93, up the Bitterroot and over Lost Trail Pass into Idaho for a 4 day loop through Sun Valley. We stayed in Salmon at
Greyhouse Inn
and in the morning hiked a few miles to Goldbug Hot Springs.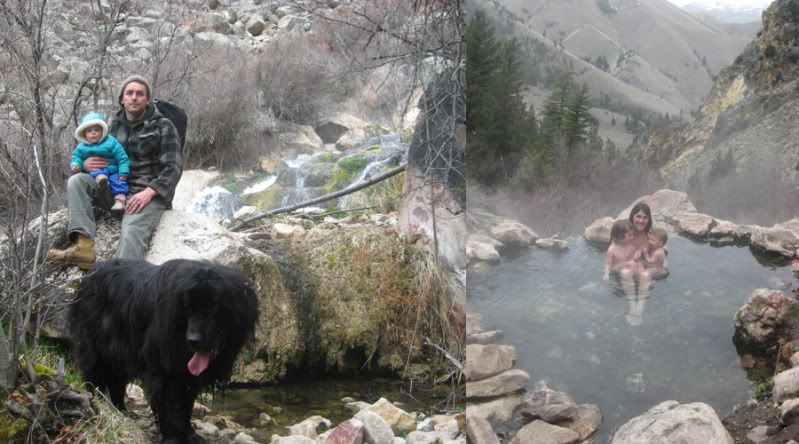 I won't bother describing how amazing it was, just that somewhere between phenomenal and magical was our day trekking to and from Goldbug, together, without a timeline or a phone or a care in the world. Moana hiked a good 3.5 of the 4 mile journey, Richard came damn close to catching a Steelhead with his bare hands and I'm just surprised that Ophelia and I ever agreed to get out of the hot pools at all.
Heading south past the Craters of the Moon, that afternoon/evening we made our way to Hailey, Idaho (just south of Ketchum) where we stayed at
Spruce Inn
. Straight from the IKEA showroom floor this place screams "too cool for messy toddlers and dirty wet dogs!" Only it doesn't. No. It was like having our cake and eating it too. I almost bagged it and booked us in a nerdy motel that had a pool because more often than not it's more fun to settle on the new us, than try to maintain the old hipper us. But not this place. It was kinda like a hostel for grown ups - and I mean that extremely complimentary. The owner was so cool and warm and hip and whatever other cool things a mountain mama can be. We all made ourselves right at home there - quite literally.

After a little jaunt through Hailey, which rivals Missoula (and the whole of New Zealand) for friendliest folks we've ever encountered, op-shops in Ketchum, chocolate and ice cream in Sun Valley, we headed north for Stanley. Hoping for a cute little cabin nestled on the banks of the Salmon River under the wing of the looming Sawtooths, we settled for the Motel on the corner because the sign read "private hot springs for guests only." The place refers to itself as
Mountain Village Resort
, but in my book it weighed in much closer to motel than resort. HOWEVER... and that's a big however... with its two queen beds, a hot shower and a toilet, it was right up our alley and well beyond what we were expecting in Stanley in the first place.
And then there was the private hot springs.
We had to reserve a time, then were given a key and told to walk 400 yards through the snow, down the hill, along the river and we'd see it. Bathing suits, snow boots and babies in tow we headed down the hill, past three big elk across the river and found the tiny little wooden shack. Who knew that "giving in to the new us" would lead to such a profound embracing of who we have become. Richard swung the barn doors open and we soaked while Pukunui scoured the river. The view of the Sawtooths was so intense with the coming storm usurping any semblance of sunshine and the three elk checking on us as often as we were checking on them. That hour was filled with playful moments, warm, wet, snugly moments, pure blissful loving moments and was impossible not to reflect on the simple, raw, deeply powerful beauty of our little family nestled together in the wild of our own private Idaho.



The walk back was warm despite the blizzard of blowing ice. Soaking in hot springs is always amazing, but there was something extra divine and spiritual about this experience. We thanked the elk for sharing their home as they too moved on to find shelter and we hunkered down in our room, jumping from one queen bed to the other, over and over and over again.
We made a beeline home on Sunday, stopping in Salmon for lunch and then in Florence for ice cream to get us through that last little push home. We pulled into the alley and each of us immediately dispersed into our own thing. Richard unloaded the car, Moana dug in the dirt, Ophelia threw gravel in the raised beds and I pruned plants that finally after a long, cold winter were starting to show signs of life. Spring was breaking! It's funny how going away makes you so appreciate coming home, but oh how being away together makes you realize that being together is really all we need to come home to.